UNT Health Science Center
About this Location
The UNT Health Science Center is one of the nation's distinguished graduate academic health science centers, dedicated to education, research, patient care and service. It comprises the Texas College of Osteopathic Medicine (TCOM), the Graduate School of Biomedical Sciences (GSBS), the School of Public Health (SPH), the School of Health Professions (SHP), which includes the Physician Assistant Studies and the Physical Therapy Programs, and the UNT College of Pharmacy. UNT Health is the faculty practice providing direct patient care for the citizens of Tarrant County.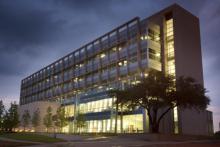 Website
Spaces
Medical Education and Training Building (MET). Multipurpose Room 109/110/111
MET 124N Auditorium
Main space for plenary sessions.